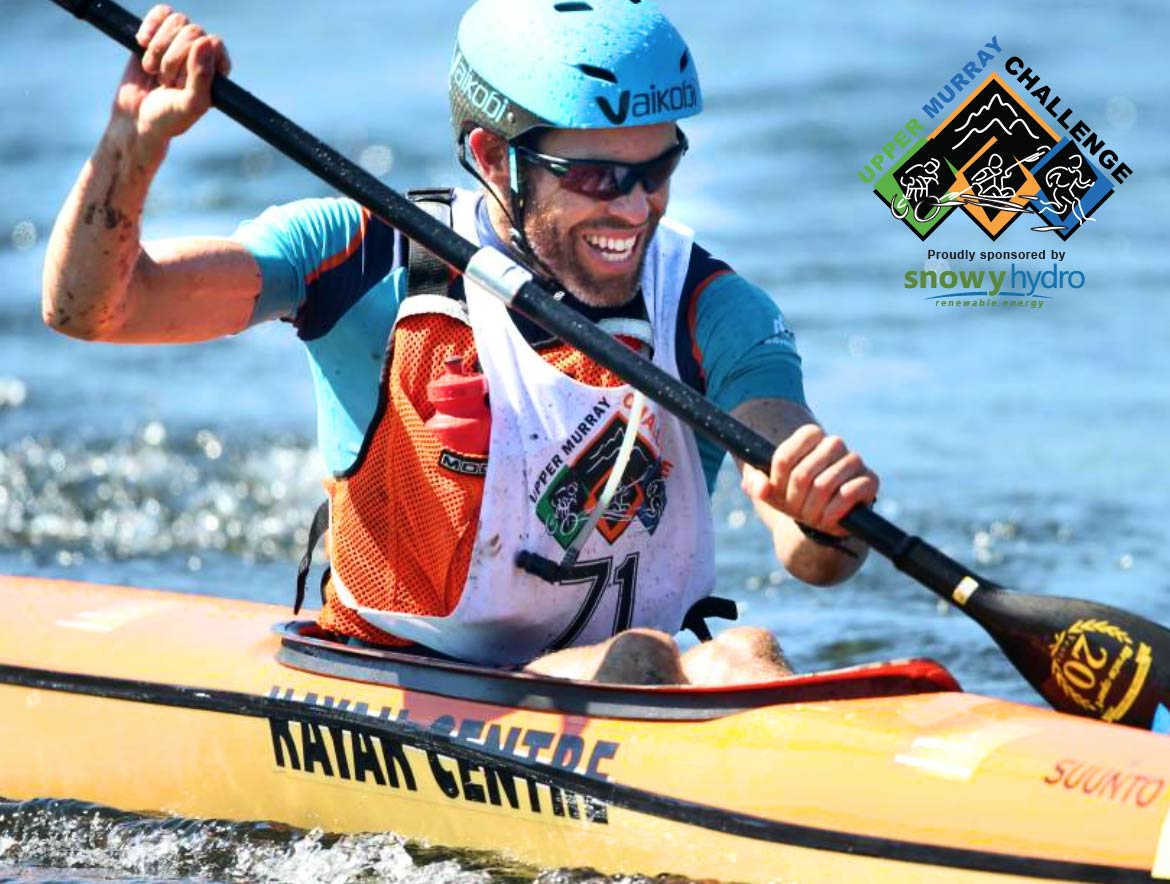 Race overview
General information about the event
The Upper Murray Challenge brings serious multisport lovers, weekend warriors and those out for some active fun to the NSW Snowy Mountains for a one-day multisport challenge.
The event offers two courses, Classic and Novice. The Classic course is a serious multisport challenge, whilist the Novice course is a new addition to the event since 2021.
Novice course distances approximately include 12km mountain bike ride, approximately 6km downriver kayak and approximately 6km trail run. The Novice course starts in Khancoban town center (same time and start place as the Classic) and finishes in TA1, Khancoban. Details about the Novice course will be announced mid-July 2021.
The Classic course features a 28 km mountain bike ride, 26km kayak paddle and a 23,5 km run set against the backdrop of a gorgeous spring alpine setting. Competitors will tackle 28km of hilly forest trails, 4wd trails and open paddocks in section one alone, but despite the physical exertion, there will be plenty of breathtaking scenery to make up for it. After the ride, competitors will face a kayak paddle challenge through fast-moving currents. The last section provides stunning views of the Murray River Flats and the Main Range during a 25km run. This challenging competition is difficult but provides entrants with a sense of accomplishment like no other when completed.
The Classic course commences in Khancoban finishing in Corryong and is almost linear, support crew is required to transport the gear between legs and participants from the finish.
Registration is open for Individual competitors, Relay teams of two or three, AR Duo teams (both participants stay together for the entire event and paddling equipment is supplied) and Single leg racers (yes, you can do just paddle, just ride or just run).
All participants (except for AR Duo teams category) have to supply their own equipment for kayaking leg.
The race starts with mountain bike leg, competitors cycle 28 km over hilly forest trails, and open paddocks in and around Khancoban Township, including 20km on the privately owned property 'Khancoban Station'.
The second leg is a paddling leg, from the transition, competitors paddle down the swift-flowing Swampy Plains River with rapids up to grade 1+ for 11km, to its confluence with the Murray River. From there they continue for another 15 km to the transition at Towong Bridge.
The whole paddle is not usually suited to crafts with an understern rudders. Kayaks and other crafts, including K1s, skis (Endorphinn, etc), sea kayaks and Down River Racers, with trailing rudder are recommended.
The final leg is a trail run. Runners head south along Towong Hill road for approximately 7kms to the Murray Valley Highway. This is a gently undulating dirt road, then some flat off-road section along paddock and a grueling climb to the Mount Elliot Ridge track with a 500 meters gain over 3 km to the summit, then undulating track and paddock descending to Thowgla valley and the road to the finish at Corryong town centre.
The route is clearly marked and well marshaled.