Upper
Murray
Challenge
2017
returns
to
Snowy
Mountains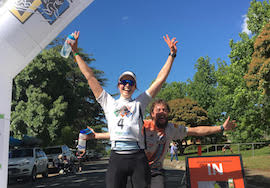 After two years being on hold legendary multisport race consisted 38 km mountain bike, 26 km paddle and 25 km run was on again! Melbournians Damon Goerke and Marlena Ahrens took the win in Solo categories and the team BBR (Simon Ross-rider, Joseph Burton- paddler, John Baker- runner) dominate in teams and were first across the line.
4th of November participants from across Australia got together in Khancoban for an early start of the race which is called one of the toughest and most spectacular multisport events in the country.

Conditions were ideal for the event- low twenties, blue sky, almost no wind. Head sponsors Snowy Hydro let additional water to the river which allowed all paddlers to have a smooth run from Khancoban to Towong, both Snowy Mountains Shire and Towong Shire Councils controlled traffic to make the race safe and enjoyable.

The first two legs of the race were led by Rob Preston, famous adventure racer from Traralgon, who is currently positioned in top three in the World Adventure Racing series ranking. Rob had a very strong mountain bike leg, finishing it with 7 minutes advantage.

During the paddle leg Melbourne based Damon Goerke, Rob's former team mate and good friend, got closer to the leader gaining 4 minutes. A drama continued on a run leg, when Damon passed Rob 6 kilometres to the finish. The third was Wodonga's Alexander Hector, who also had the day fastest paddle time.

The first lady Marlena Ahrens is Australian representative in Marathon kayaking showed as expected outstanding paddle time and had a strong run and mountain bike splits as well.

The race had a high success for all accounts and organisers are promising to bring it back in 2018 on the original date - 6th of October. Pencil it for the next year, individual, relay team, AR Duo team and single leg options are available!

Organising the Challenge would not be possible without sponsorship and support of Snowy Hydro, Snowy Valleys Council, Towong Council, Full Cycle Albury, Alpine Inn Khancoban, Khancoban Country Club, Khancoban Station, Shotz Sports Nutrition, Albury Wodonga Radio Club, Corryong and Khancoban SES, Legends on Hanson Corryong, Upper Murray Health Community Services and a number of local volunteers dedicated their time to the organisation.